Central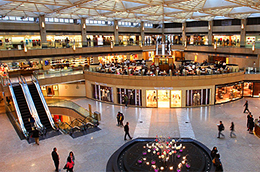 The most famous shopping complex in the district:
ifc mall is an exciting shopping and dining experience at Hong Kong's Central Waterfront. 
The Landmark, Prince's Building and Alexandra House are linked together by means of indoor bridges. Together, it houses an abundance of internationally branded shops.
Fascinating back-street culture
Hollywood Road and Upper Lascar Row (also known as Cat Street) are famous for curio and antique shops, selling products like Chinese furniture, Chinese porcelain, Buddha status, ikebana baskets form Japan, snuff and perfume bottles.
Li Yuen Street East and Li Yuen Street West are packed with stalls and shops selling bargain-priced clothes, leatherwear, knick-knacks, etc.
Lyndhurst Terrace is full of shops selling ancient maps, paintings, stationery, crafts, antiques, linens and fine silks.
Pottinger Street is lined with stalls selling ribbons, bows, buttons and more.
Stanley Street is a photographers' paradise selling cameras, film and accessories.
Causeway Bay

Modern shopping malls everywhere:
Sogo (on Hennessy Road) is one of the most popular Japanese department stores in Hong Kong, selling high fashion clothing, accessories and toys.
Times Square (on Russell Street) is one of the largest shopping complexes in Hong Kong with shops selling a dazzling variety of goods.
World Trade Centre (on Gloucester Road) is another well-liked shopping complex in the district.
Local street stalls:
Take Exit F from Causeway Bay MTR Station and you will find Jardine's Crescent, where street stalls sell domestic goods such as clothing and accessories at great value.